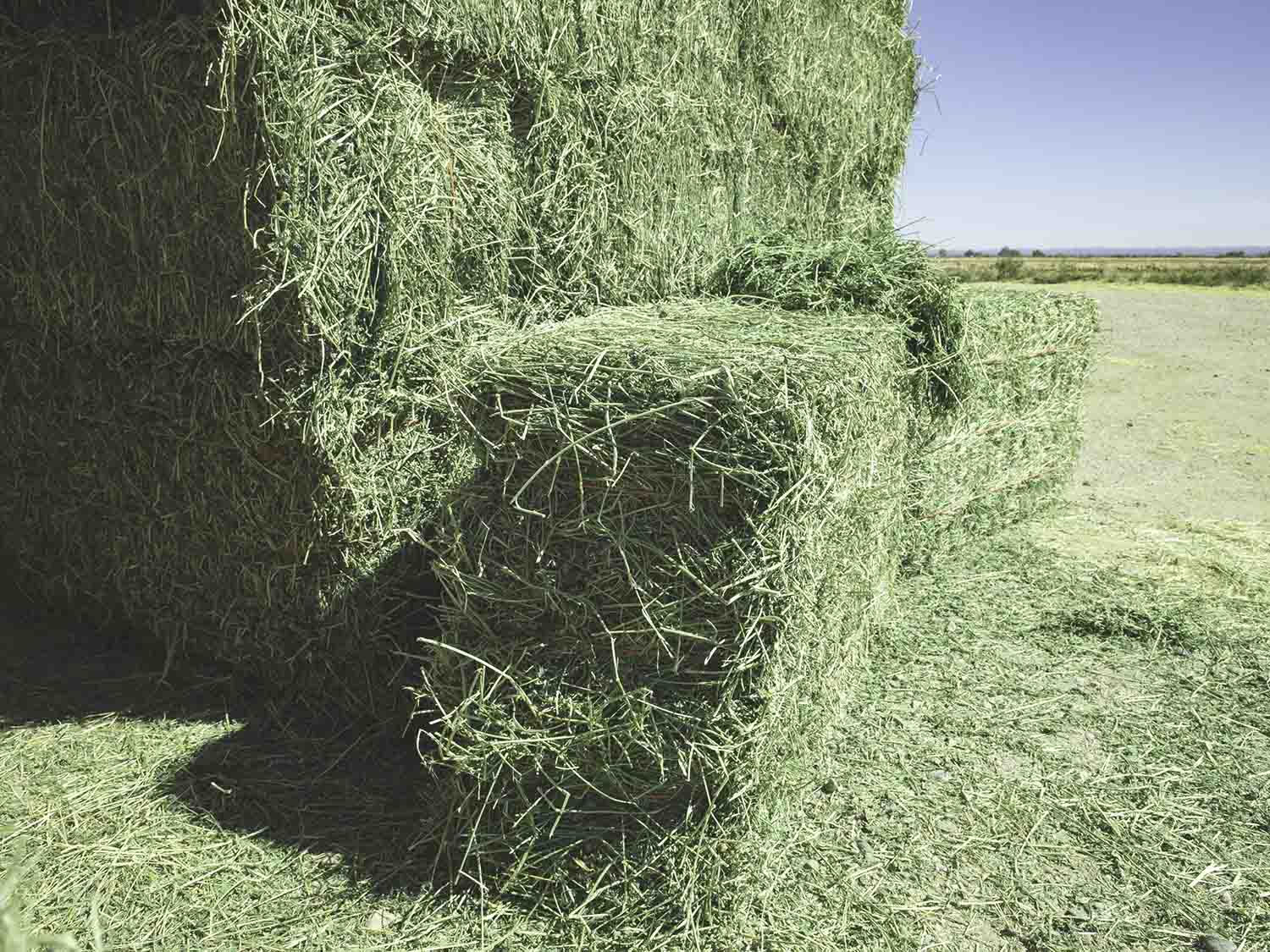 Premium Alfalfa Hay For Sale
Save

Liquid error (snippets/product-badge line 32): Computation results in '-Infinity'

%
Premium Alfalfa Hay for Sale
Our premium Alfalfa Hay is properly cured, baled, and stored to ensure the highest leaf to stem ratio and optimal moisture. Our Alfalfa bales are clean and free from weeds, mold, dust, insects, rodents, rocks, baling wire, or other contaminants. We inspect and grade every cutting of hay to ensure the highest quality of our premium Alfalfa hay. Our years of relationships with Southern Arizona farmers and hay producers and growers means we acquire the best premium Alfalfa available for all horses and livestock. We only work with farmers that are passionate about growing the finest Alfalfa hay available. Our hay is suitable for horses, and other livestock like dairy cows, sheep, goats, and other smaller animals, just add it to any feeder when animals are not on pastures to forage.  
Nutrition- Alfalfa Hay for Sale
Alfalfa is high in protein and digestible energy (DE). For active, lactating, or growing horses, it provides all their nutrients and energy needs. However, mature horses, with lower protein needs, may not need straight Alfalfa hay because of the high protein content. Grass hay or alfalfa mix hay of grass hay, and Alfalfa may supply the proper nutritional value for your horse. If your horse tends to put on weight, it's essential to control the amount of Alfalfa in your horse's feeder for their diet. This can be easily done by augmenting their feeding with grass hay. Secondarily, this will add much-needed fiber to your animals' food, which helps prevent impaction.
Recommendations- Alfalfa hay for sale
Premium Alfalfa is excellent for working or show horses with high activity levels and nutritional needs. It's also an ideal feed for lactating dairy cattle. Our delivery experts will get our quality Alfalfa bales to you in the same premium condition as it leaves our lot. We cover all our hay bales to prevent weather damage in transit. When you need the highest quality Alfalfa at a great price, we've got it!
Our buyers are our priority. We ship our bales across the United States at competitive rates. We encourage you to contact us with your feed needs in advance so we can supply precisely the fodder to fit your needs. Make sure you get premium Alfalfa bales for optimal health and performance. Good hay can make a difference.

Premium Alfalfa Hay Analysis (Typical-not Guaranteed)
Crude Protein: 18.7%
Digestible Energy (DE): 1.02 Mcal/lb
Lingnin: 5.6%
Crude Fiber: 34.4%
Starch: 2.2%
Non-Structural Carbohydrates (NSC): 13%
Relative Feed Value (RFV): 159
Calcium: 1.12%
Phosphorus: .21%
Ca:P Ratio: 5.3:1
Bale weight: 90-100lbs
Number of stings: 3
Note: The above values are averages for comparison purposes and do not represent a certified analysis of this hay. Loads may vary.